Taxco de Alarcón, Gro. México –
"How about an arrachera en salsa roja at a colonial- style restaurant in the old magical city of Taxco?" Del Angel Inn Restaurant is simply divine, with it's Prehispanic fusion recipes that incorporate both European and local flavors. This lovely restaurant is situated in the heart of El Centro de Taxco, with picturesque views of Santa Prisca Church, and very narrow streets consisting of white stucco buildings with red-tile roofs.
Our surroundings from Del Angel Inn Restaurant's terrace were absolutely heavenly and romantic as we dined amongst Mexican, Baroque architecture and colorful hanging planters. When our dishes arrived we were thankful to have the same impression as we did of the restaurant just based on the presentation of the food! The sounds of traditional live Mexcian music while enjoying a refreshing jar of nopal and strawberry green juice was exactly what we needed after a long day of exploring. We absolutely loved everything about this gastronomical wonder, the arrachera en salsa roja was explosive, and the spiciness of the red sauce gave the skirt steak that extra kick of goodness! For the less adventurous foodie, you can opt for the chicken ravioli dish, it's just as good. We really enjoyed dining here and loved our plentiful dishes so much we didn't have enough room for the famous flan!
Our local tour guide and foodie Roberto Alarcon provided us with an exceptional experience at this heavenly place!
We highly recommend Del Angel Inn Restaurant for all the right reasons!
---
-Entrada-
Start off with a fresh plate of guacamole
-Bevidas-
Jar of Nopal & Strawberry Green Juice
-Platos Fuertes-
Arrachera (Skirt Steak)
Ravioli
-Dessert-
Finish with a delicious flan
---
Price: $$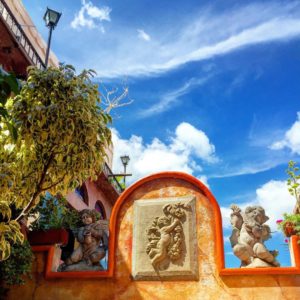 Eat Digs: Del Angel Inn Restaurante
Address: Celso Muñoz #4 – Altos, C.P. 40200, Col. Centro,
Taxco de Alarcón, Guerrero México
Hours: Mon – Sun 8am – 10:30pm
Del Angel Inn Restaurante – Website
Phone: (762) 622-5525